The Renovation Process
Perfection at every step. Care in every moment.
Whether you have begun renovating with us or want to know more, we would like to congratulate you on taking your first step towards your reimagined interior space. Read on to know more about how we bring your dreams to reality, from the introductory meeting to ideation through to the renovation process. At each step of the way in creating your home or workspace, we ensure our service is a class apart by considering and working on your needs.
THE JOURNEY TO YOUR NEW SPACE BEGINS
The planning of your renovation process
STEP 1
Introduction meeting
Our Interior Designer meets you for a non-obligatory introductory consultation to get a thorough overview about your project requirements. This gives us a solid foundation for our design ideation.
STEP 2
Confirmation & Quotation
We carefully consider your requirements and confirm them with you, to offer complete transparency. At this stage, we provide a quotation for your approval and sign off to begin work.
STEP 3
Materials & 3D Drawings
Our Interior Designer ideates with their creative team and provides the first glimpse at your new space through vivid 3D drawings. Additionally, we bring it to life with material selection process with you.
STEP 4
Site meeting & defects check
We do a thorough inspection of your site with you, to finalise the plans for renovation. We undertake a rigorous check for any structural defects, or any areas of concern that would need to be addressed during the renovation process.
STEP 5
Renovation
begins
We begin the process of renovation, and your stunning new space is well on the way.
THE RENOVATION WORKFLOW
Bringing your dream project to reality.
STEP 1
Demolition Work
The first step, is to create the necessary space for your beautiful project. Based on our approved designs, we demolish walls and flooring to improve the flow of your living space and to prepare for the installation of new design elements. During this process, we carefully clear your space and cover any appliances or items if necessary.
STEP 2
Masonry Work
At this stage, your new home starts to take shape. Our craftsmen begin construction of the structures by laying bricks for the required walls and structural designs. We ensure that all walls are solidly built with the best materials and expertise for extended durability. In addition, we also begin fitting the space with your preferred tiles and building materials such as marble or granite on the walls, floor, or countertops.
STEP 3
Plastering Work
Plastering helps to create an even surface over the newly bricked walls, or to repair any cracks in the surfaces of existing walls. Our craftsmen ensure that the plastering work is meticulously carried out to ensure a beautiful smooth and precise finish, in every detail and in every nook and corner of the space, in preparation for painting.
STEP 4
Plumbing
We ensure that your new space is perfected right down to the plumbing. As one of the most important steps in the renovation process, we re-pipe your entire space. This ensures not just efficient flow, but also the avoidance of any leakage that could soak and damage your walls. Which then keeps your renovated space looking always pristine for years to come.
STEP 5
Installation of Electrical Wiring
Your newly designed space deserves to be beautifully lit and also versatile with the necessary power outlets and appliances. To enable this, we install new wiring through your entire space, even replacing existing wiring to keep within the best safety practices and to ensure long-lasting durability. We cleverly plan areas where you would need a power outlet or connection, for your convenience.
STEP 6
Set up of Air Conditioning
Your new space should be more than just beautiful, it should be a joy to live in too. Efficient air-conditioning is vital to making your new space comfortable through the year. Which is why we set up your aircon units in each room strategically, and undertake a maintenance check on them too. This helps to clear the dust build-up from the renovation process, and to create a smooth airflow through your space.
STEP 7
Ceiling & Painting Work
A false ceiling lends an aesthetic, attractive look to your space and creates a setting for beautiful lighting such as display lights and chandeliers. We install the false ceiling and sturdily fix it below your original ceiling. Your false ceiling can be crafted from a variety of materials of your choice such as POP, wood, asbestos sheets and more.
It's time to add colour to your plastered and fitted space. We expertly apply layers of paint to your walls and create distinctly beautiful looks. Our painters use the shades and hues approved during the design process in exquisite finishes and patterns to bring alive your space. A paint job that's well done can instantly bring a sense of freshness into your new space, and keep it looking lively for years.
STEP 8
Polishing & Vanishing Work
After painting is finished, we carefully clean all tiled surfaces and then polish and varnish them multiple times, to bring out their beauty. Tiles that sparkle can help multiply the natural light in your space, as well as adding a classy touch to your décor.
STEP 9
Carpentry
To create spaces that are always tidy and attractive, we craft cleverly designed storage and furniture. Our carpenters and craftsmen create cabinets, shelving and any other fixed furniture you may need for your kitchen, living spaces, or your office and retail spaces. We use smart solutions and durable, sustainably sourced wood and other materials to create furniture that always serves you well.
STEP 10
Glass & Metal Work
Glass panels can help to emphasize the space in your house, creating a balance of light. In addition to adding brightness, glass panels also come in a variety of designs, colours and finishes that can lend a classy touch, or provide privacy for your rooms without sacrificing natural light. Our craftsmen customise glass panels with embossing and unique shapes if needed, for your glass doors, panels, shower screens or any other purposes.
Metal fixtures such as a metal gate or windows can be essential for security. And with the right artistry in embellishments and shades of paint, they can be made to look decorative and elegant too. We choose metal fixtures that are high-quality and durable, and that perfectly blend in with the design philosophy of your new space.
STEP 11
Cleaning
Your dream space deserves to be sparkling with care, in every detail. As a finishing touch to the renovation process, our cleaners undertake a comprehensive cleaning routine, going over every surface to make sure your space is clean, fresh and ready for you.
STEP 12
Your Finished Home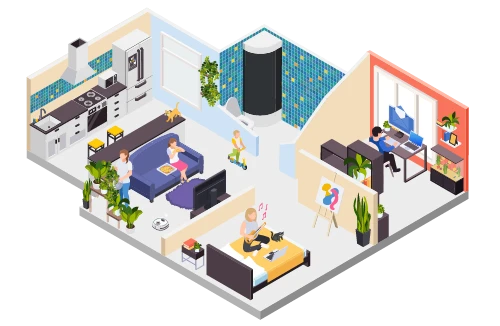 We take great pleasure in welcoming you to your new space, which we hope would match your dreams. We give you a tour and briefing of the works undertaken and answer any questions you may have. Our designer will also give you a handover form for your signature and approval.
WHAT'S YOUR DREAM PROJECT?
We are excited to hear about how we can bring your dream home or working space to life.
Contact us to get a free quote and consultation today.