Oh, how we all dream of spending our days being enveloped in the comforting atmosphere and in the gorgeous setting of hotel rooms. Where our every beck and call is met with such hospitality. Well, homeowners, now you don't have to settle for simply a reverie when it's possible to model your interior after a favourite lodging of yours. Ready to add luxury and utmost comfort to your everyday life? Here, we've got 8 suggestions to help with the upgrade.
Upgrade your bedroom
Image via Pinterest
When it comes to emulating a hotel, one of the most important upgrade you need to make is to your bed. If you haven't already, it's time to invest in a King or Queen sized mattress with good support to ensure the most restorative slumber. The bed frame should be suitably lavish with a padded headboard to rest your head upon should you wish to enjoy some light reading before snoozing off. Boost the snug factor with plump pillows; and then dress your pillows and beddings with covers that are of a high thread count. Add accompaniments such as side tables, a plush rug or even an armchair that comes with a footrest to elevate your weary legs with. Complete the look with gorgeous well-made draperies that suit your interior theme.
Enjoy a rejuvenating bath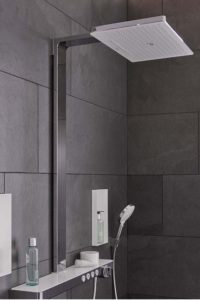 Hansgrohe rainmaker select (Image via Pinterest)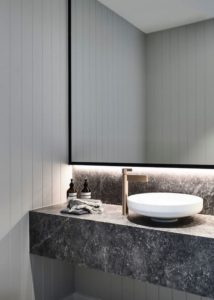 Image via Pinterest
Remember the last time you had a soak in a bubble bath and didn't want to leave the soothing warmth of the tub? Upscale hotels go all out to ensure your comfort, but don't sweat it if you aren't able to fit a bathtub into your space. Invest instead in bath fittings such as an overhead shower head to enhance your showering experience. Quality is as important when it comes to the rest of the fittings such as the washbasin taps, water closet, storage racks and rails, and even mirrors.
For a first-class experience even after shower time, acquire posh plush towels that feel heavenly on skin – just like the ones that are prepared lovingly for you in hotels. Ensure you practice good housekeeping habits though. These towels do not belong on the floor – hang them to dry neatly on a towel rail in preparation for your next bath.
Pay attention to your entryway
Image via Pinterest
The foyer of a hotel is just as important as its interior. To make a great first impression at home, give your entryway the same attention you would the rest of your pad. Designate a small yet cosy nook to allow the family members or even visitors to take off or wear their footwear in comfort. In addition, you could personalise this area with a shelving unit that allows you to showcase trinkets that speak of your unique style and personality.
Maintain the room at perfect temperature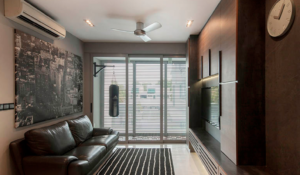 Although it doesn't affect an interior's aesthetic, a room's temperature can undeniably affect the way you feel. Achieve a temperature that's perfectly suitable for you by investing in a smart home system. For instance, ORVIBO's Central A/C Control Panel allows you to remotely control your pad's air-conditioning with a click of a button via a smartphone. This way, you'll be able to come back to a climate setting that you desire, ensuring comfort the moment you step in.
Never underestimate good lighting
Good lighting can literally transform the mood of an interior – which explains why hotels are properly illuminated with light fixtures at every corner. Think glittering chandeliers, statement floor lamps, ambient lighting, even jaw-dropping pendants. Never stick to one single light source in a room – variety is key. For example, apart from functional overhead lights in a room, intersperse the area with a pretty table lamp or a futuristic floor lamp that arcs right atop a handsome wingchair.
Keep clutter at bay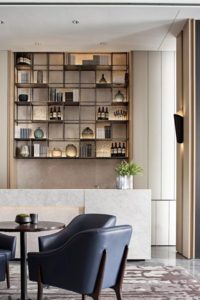 Image via Pinterest
Even a fancy interior will appear unappealing if there is mess sprawled everywhere. Hotels are always pristine with nary any clutter in sight. Every single item has been allocated the right home where they belong. Even on open shelving, things look artistically put together. Step closer towards your dream of a hotel inspired dwelling by making smart storage solutions your best friend. Concealed compartments keep the less pretty items hidden, while display units and shelves are a way to show off your favourite trinkets and travel memorabilia. You can also consider trays for your watch and accessories and textured baskets to hide laundry in.
Ensure wires and cables are out of sight
Due to the electronic appliances and light fixtures that are utilised at home, wires and cables are unfortunately found everywhere in an interior. One way to keep these long snaking cords out of sight is to go wireless. Or else, rope in the help of a reliable interior expert to assist you to construct wall panels and false ceilings that will keep these necessary but unsightly cable lines neatly tucked away.
Soundproof your home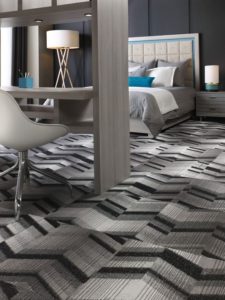 Image via Pinterest
One of the reasons why hotel rooms are so tranquil is the lack of noise disturbances. No noisy neighbor or the loud blaring of horns – just peace. Get that same sense of serenity by soundproofing your room. How do you then block out all of that background noise? One way to achieve some quiet is by adding insulation to your walls and ceiling. Double-glazed windows also provide good insulation. But if you don't wish to go the lengths, putting up heavy drapes or laying rugs or carpets across the floors will help to break up soundwaves to avoid that echo-like quality within an interior.
For inspiration and further insight, hangout with our ID in this coming weekend event. Wait no more and RSVP now~