What comes to mind when the term industrial-themed interior decor is mentioned? Old warehouses and industrial buildings? Exposed brick walls, ducts and pipes atop a capacious factory-converted loft?
While these images bear the quintessential look of the industrial-themed interior design, there is more to this style of home interior design that is fast gaining popularity among Singaporean homeowners. Taking inspiration from the lofty look of warehouses and factories, this interior design approach juxtaposes modernity with the industrial architectural details and old world charm to create bold, playful contracts or make a strong statement about your personal style.
Be it HDB interior design or condo interior design, big- or small-space interior design, industrial-style decor can be found in many urban homes. So what are the main features of this particular style? Let's take a look!
1. Raw & Unfinished
Here, imperfection is perfection! Through the use of exposed bricks, metal and wood (sometimes unpolished), and at times salvaged or recycled materials, the style embraces a stripped back, warehouse-like and unfinished look. Usually, different types of materials are employed in the space, such as rough-hewn and weathered wood with a generous mix of cement and steel. Metal on walls, doors and built-ins is also featured to bring out the raw and rustic aesthetic.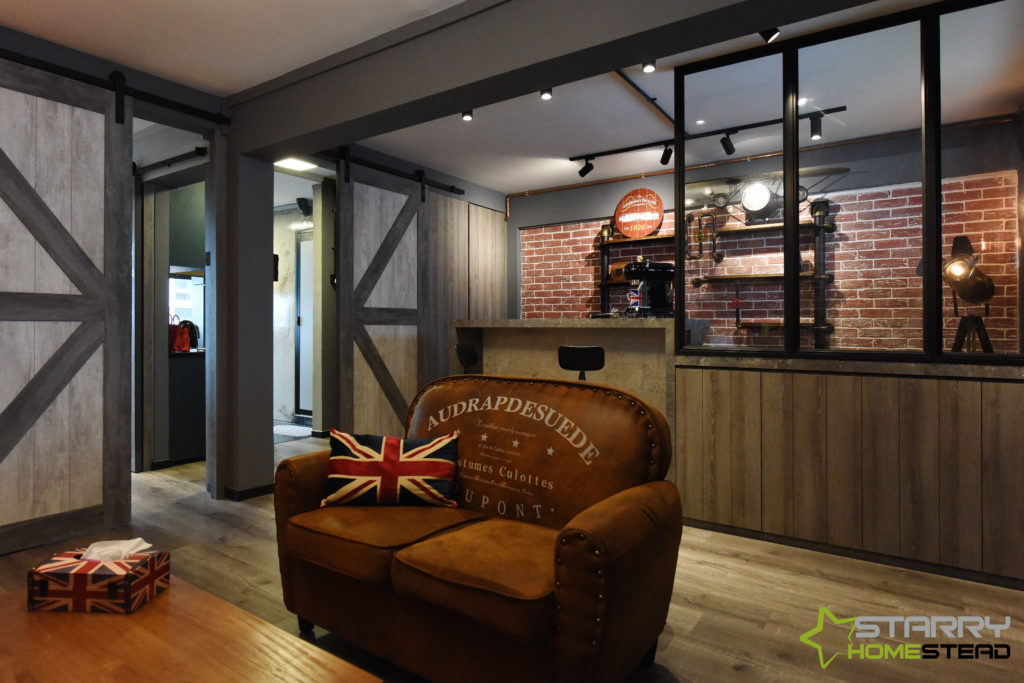 Exposed bricks and barn-like doors bring back the memory of an industrial era.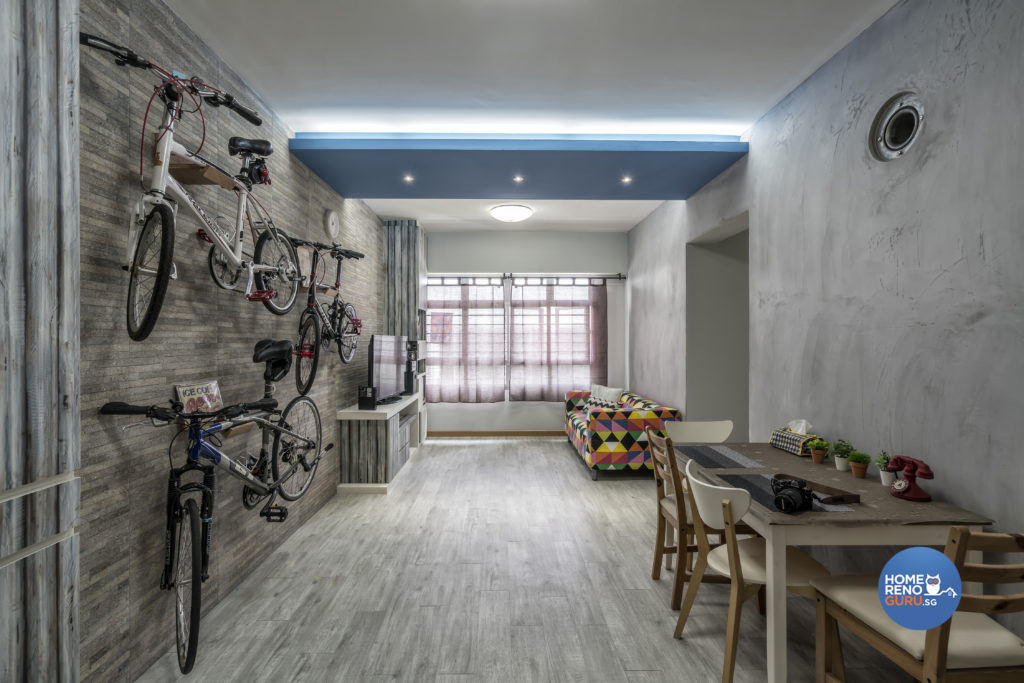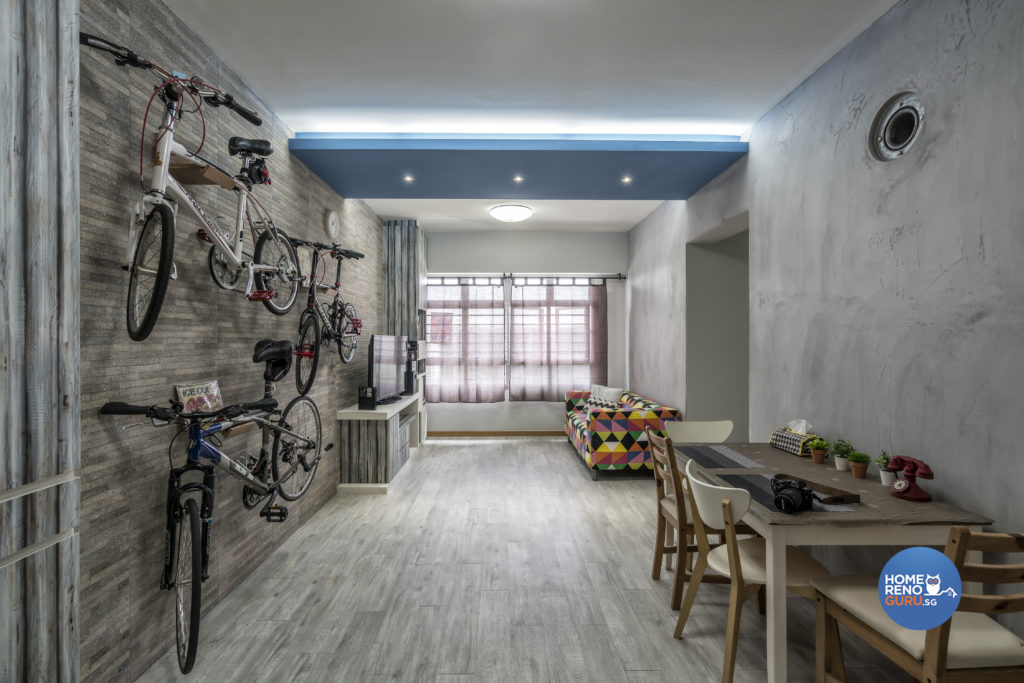 Brick walls are highly functional as they are subject to wear and tear.
2. Materials & Shapes
Although wood or wood-patterned floors are the primary choices for the industrial style, polished concrete floors or walls that showcase the stresses and cracks of harsh factory conditions are a common sight too. Besides being relatively inexpensive, cement floors are ultra-modern yet keeping in line with the main industrial theme. If one prefers the wood floor, hardwood or parquet floorings are a few excellent options.
The types of shape used for industrial interior design consist of mainly squared lines and blocks to convey the warehouse-like look. However, one should be careful not to overuse such a masculine design as it could result in too utilitarian a look. To soften the harshness, a hint of organic curves and abstract shapes can be added.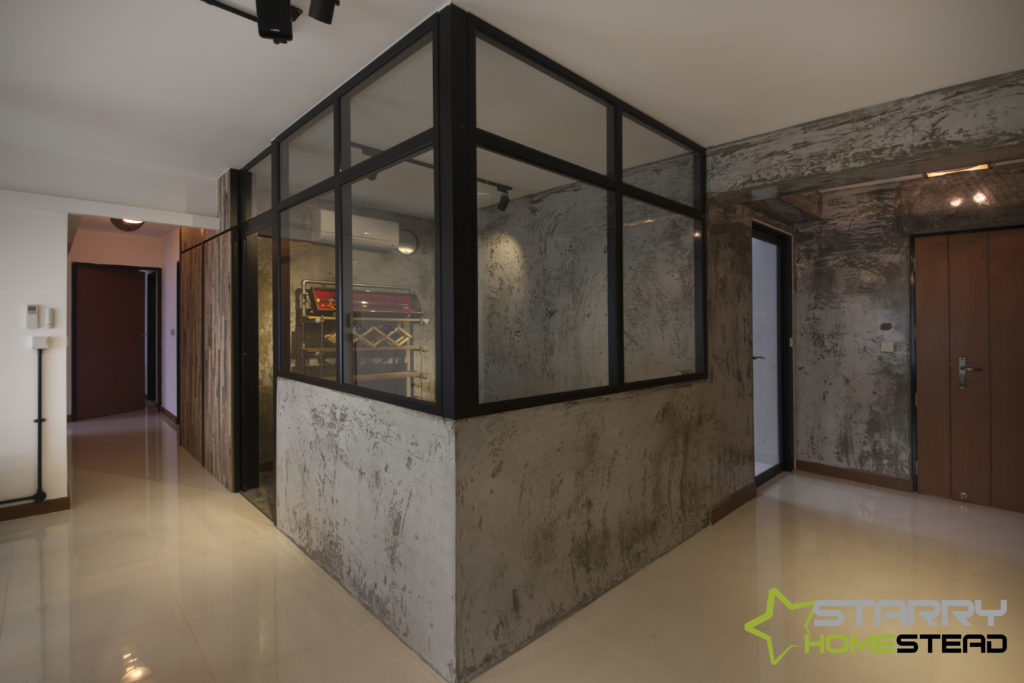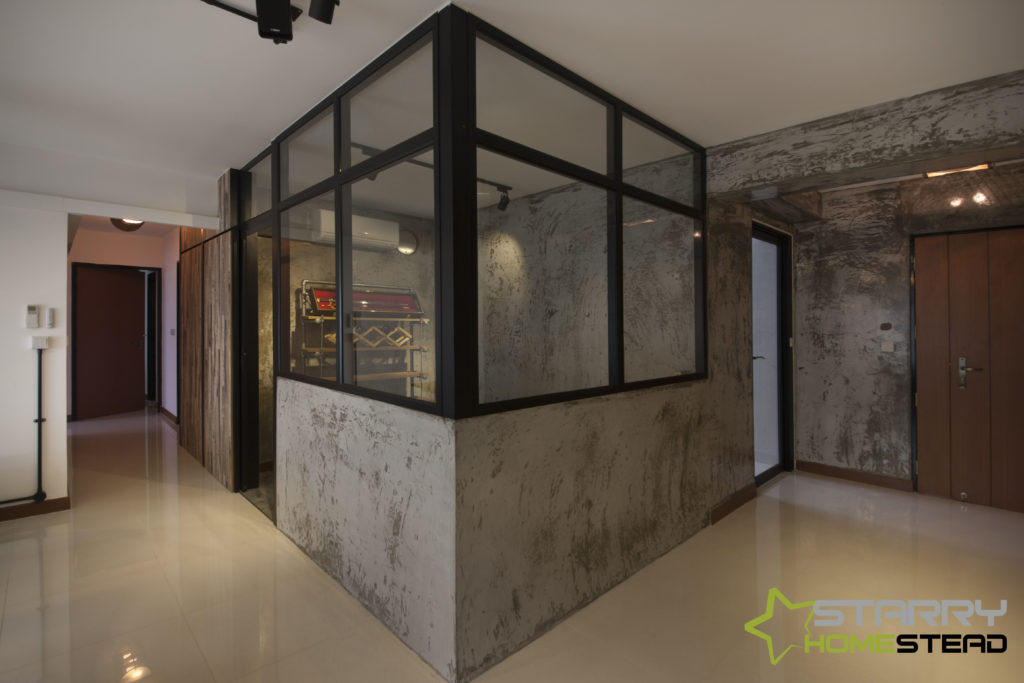 Polished concrete walls that resemble old factory surfaces are an important stylistic choice for industrial-themed homes.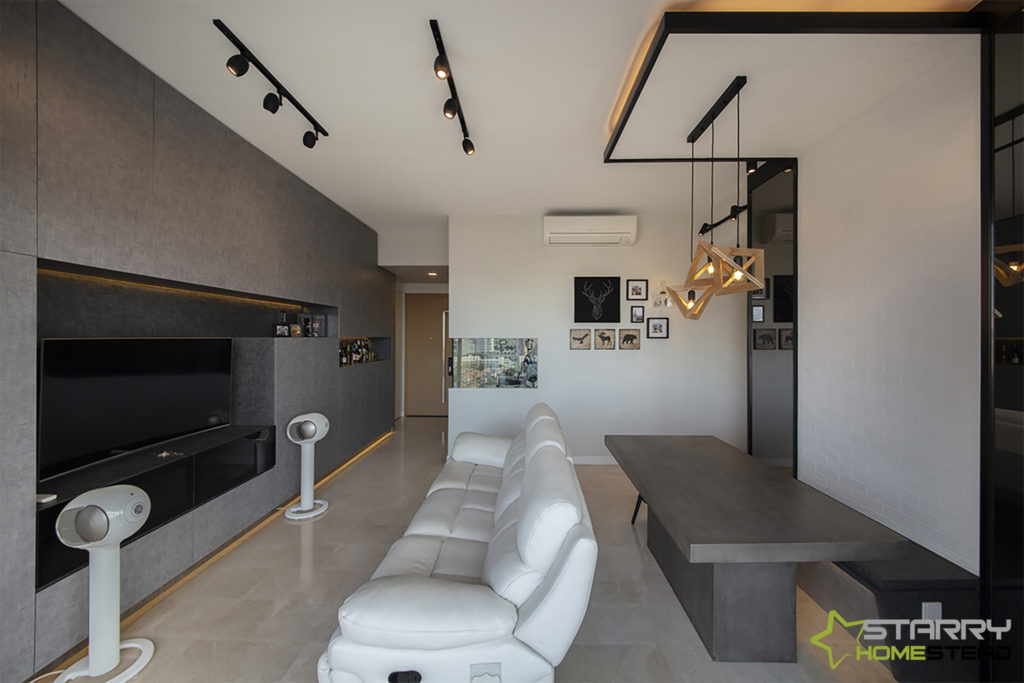 Lines and blocks are the mainstays of the industrial-style homes.
3. Colours & Tones
A blend of grey, black and other colours that mimic the metallic feel is commonly seen in industrial-inspired space. Black is used for enhancing primary decor and structures. Occasionally, a bright, vibrant colour is used to highlight certain elements and break the monotony of the darker tones.
Darker tones like grey and black fit the industrial interior perfectly.
4. Lighting & Lamps
Light fixtures with metal finishes are complementary to the industrial theme. Industrial-style lighting often includes pendants and floor lamps, which are usually low hanging with wide shades. Overhead, multi-directional spotlights also give the area a factory-like ambience. For a retro feel, filament lightings with Edison-style bulbs are great choices.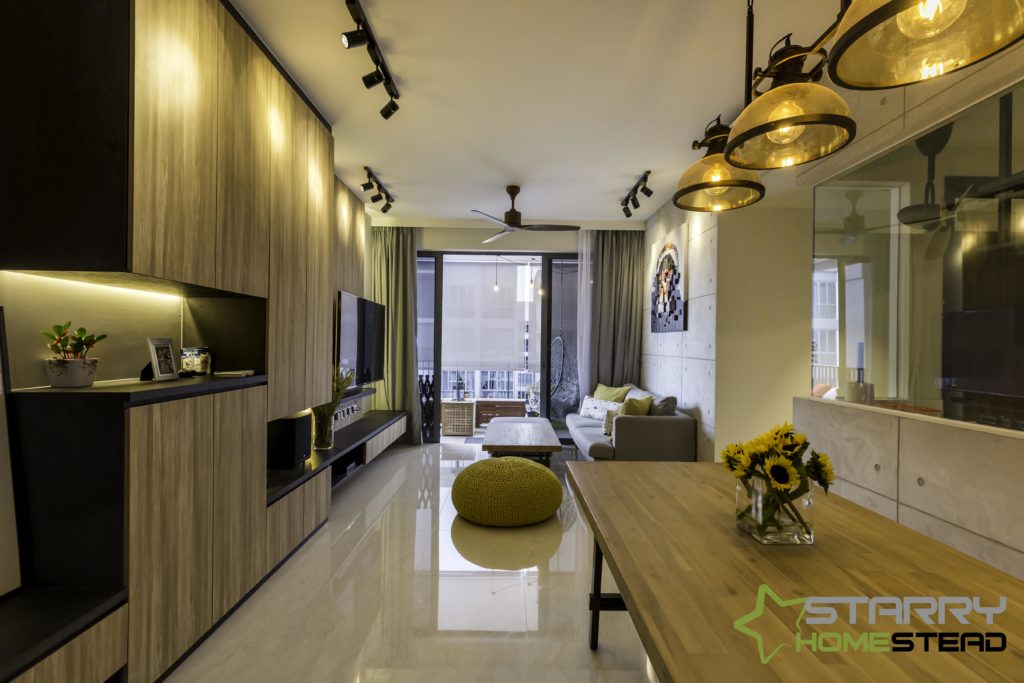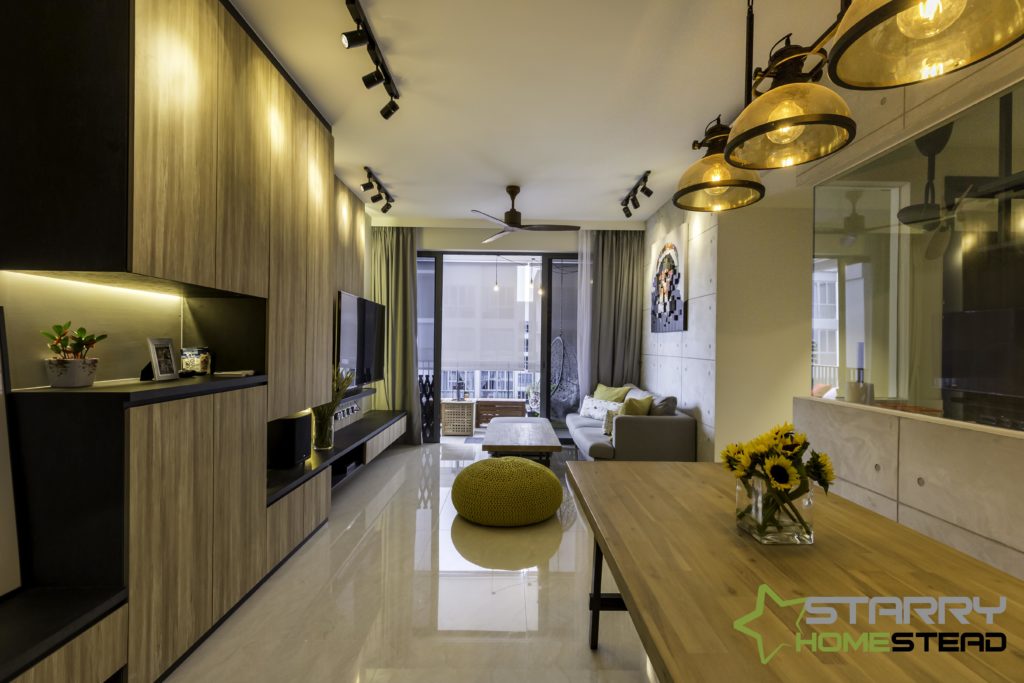 Popular lighting choice includes pendant shades and spotlights.
5. Furniture & Deco
The industrial concept can be enhanced with the interior design's final touches. Industrial-accent pieces such as prints on mechanical details, monochrome photographs and typographic artwork further demonstrate the style. If you favour bolder decorations, murals or big-stroke graphics on the walls reinforce your artistic choice. To soften the raw, concrete look, oversized, blocky sofas and throw cushions with mismatching factory-cart-like coffee table offer a comfortable, relaxed ambience.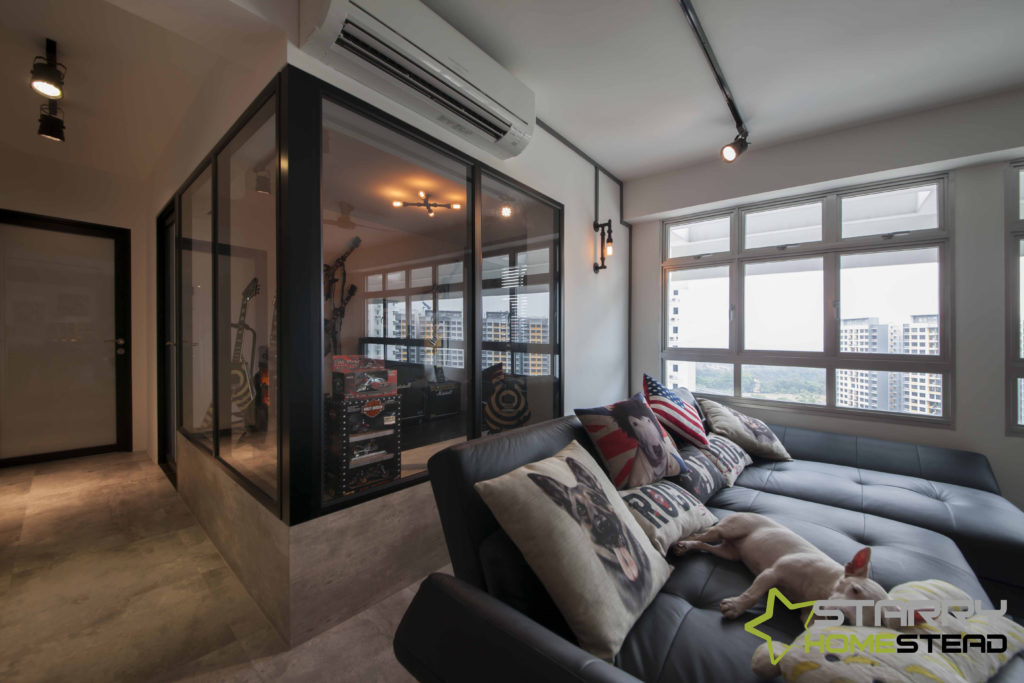 The comfy sofa creates an interesting contrast with the cool industrial aesthetic.
By blending the old with the contemporary, you get a chance to create a style of your own, complete with your personality and choice. For more information on industry-style interior design, please contact our friendly interior consultant for a chat!