When briefing interior designers, are you guilty of using the phrases "modern interior design" and "contemporary interior design" interchangeably? Do you know the difference or understand their true meaning?
You'll be surprised to know that they are actually different styles. The modern style usually refers to the design movement started in the 20th century and features crisp lines, clean colour palettes with a mix of materials. Contemporary, on the other hand, describes design based on the here and now rather than of a specific era. It changes as time evolves, and may include trending design elements.
In this article, we will introduce some of Starry Homestead's HDB interior design and condo interior design projects that have incorporated the modern home interior design ideas.
A Sense of Simplicity
If your philosophy in life is to "keep things simple and fuss-free", the modern style makes a perfect decorating choice for you. Fluffs and other unnecessary ornamental pieces are eliminated to stay clutter-free.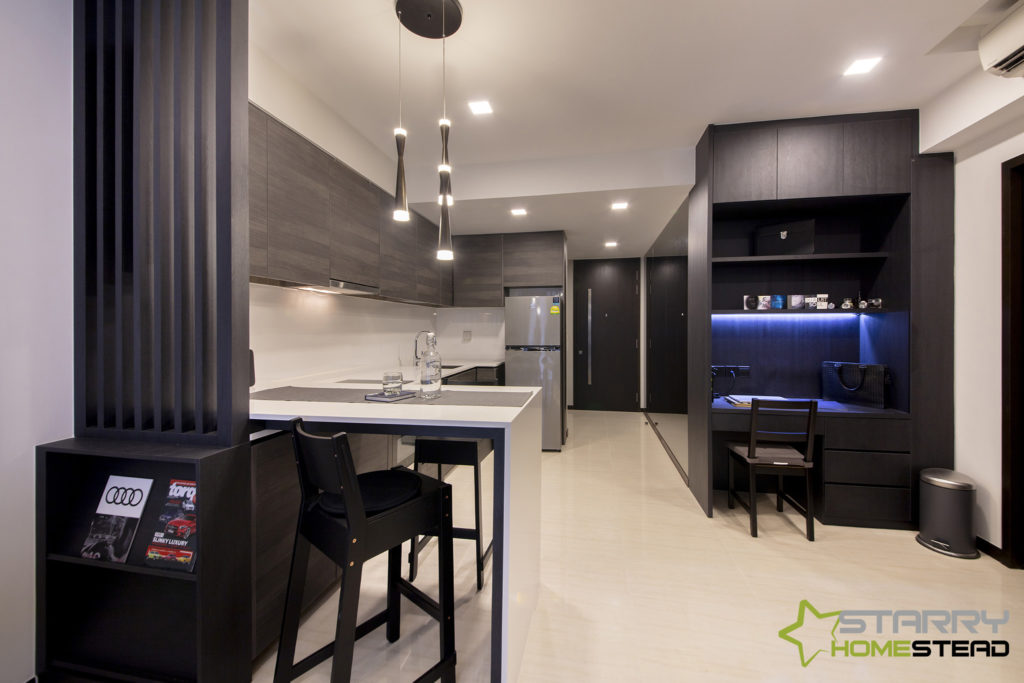 As most of us live in apartments with smaller square feet, removing partitions to form a single space creates a more convenient layout.
Sleek Lines and Shapes
Modernism celebrates the ultra-clean lines, with an emphasis on the horizontal and vertical. It also uses geometric shapes, including squares and rectangles. The design is also generally minimal, with few details such as bronze mirror to interrupt unbroken lines and flat surfaces.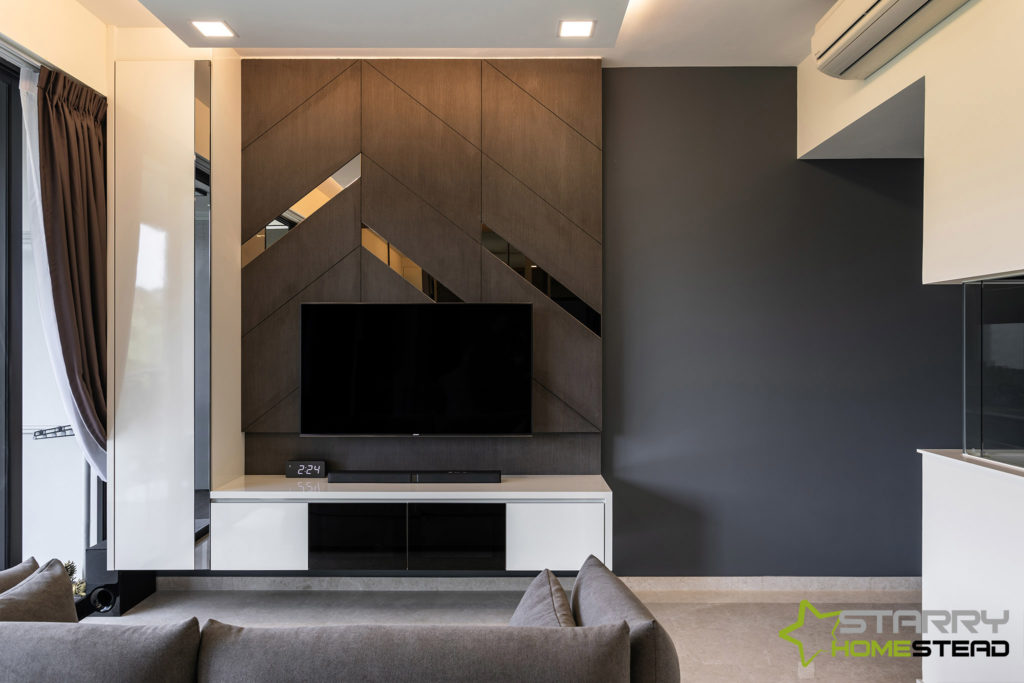 The focus in this room is on the use of monochromatic colours and geometric shapes.
Repetitive Patterns
Patterns are commonly used in modern decor to create an exciting look that draws the eyes and, at the same time, gives the space more energy and contrast. Some of the more popular patterns are straight lines, herringbone and trellis. Not confined to just wallpapers, patterns can be used as part of the wall features, ceilings, tiles, rugs and even cushions.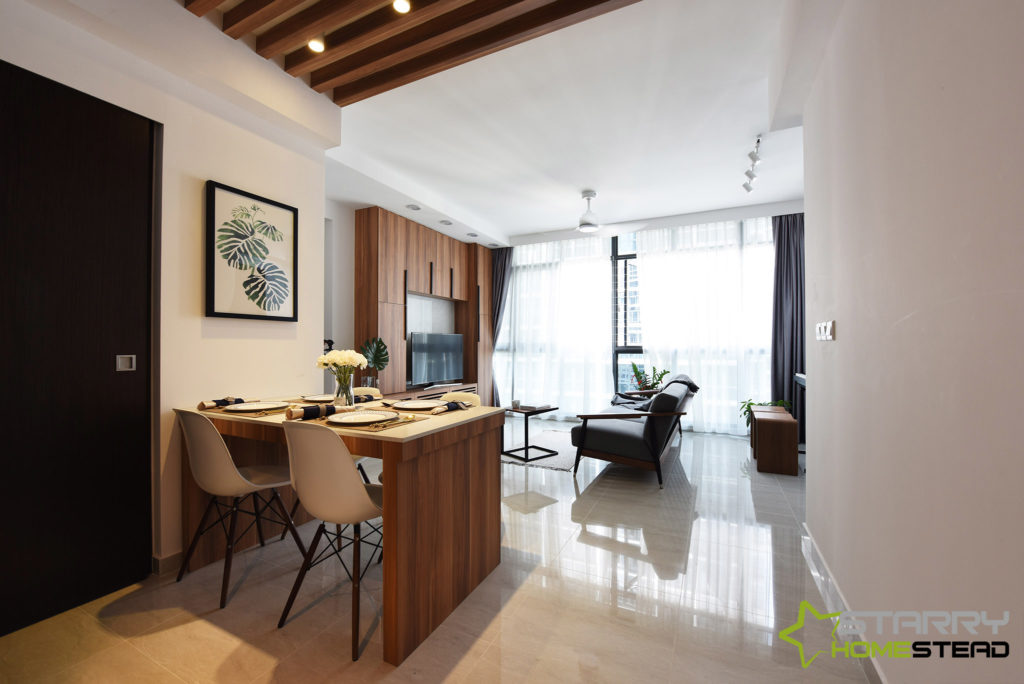 In this apartment, the same wood pattern is used throughout the living and dining areas.
Monochromatic Colour Scheme
The monochromatic colour scheme applies a single colour but uses its several tints, tones and shades. It is an excellent design technique for modern interior aesthetic because, other than being pretty to the eye, it gives your living space unity and harmony. It does not have to be fifty shades of grey though; you can use any colours – beige, blue or green – to achieve your monochromatic vision. To keep things interesting, you can mix textures and patterns into your design too.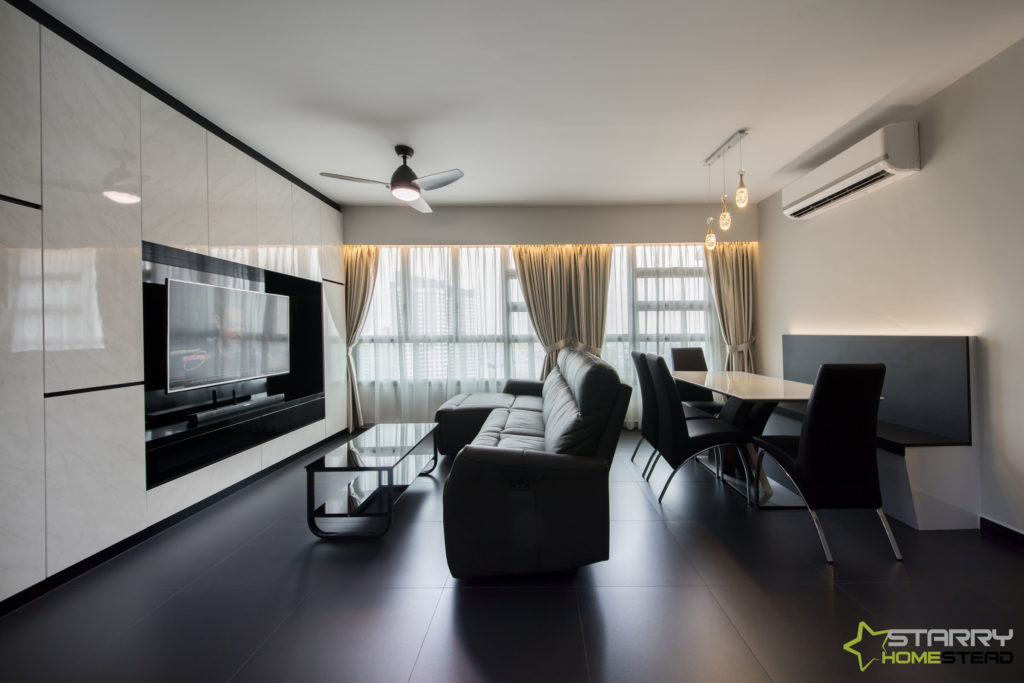 Monochromatic living rooms are now a huge trend, especially with bolder or darker colours.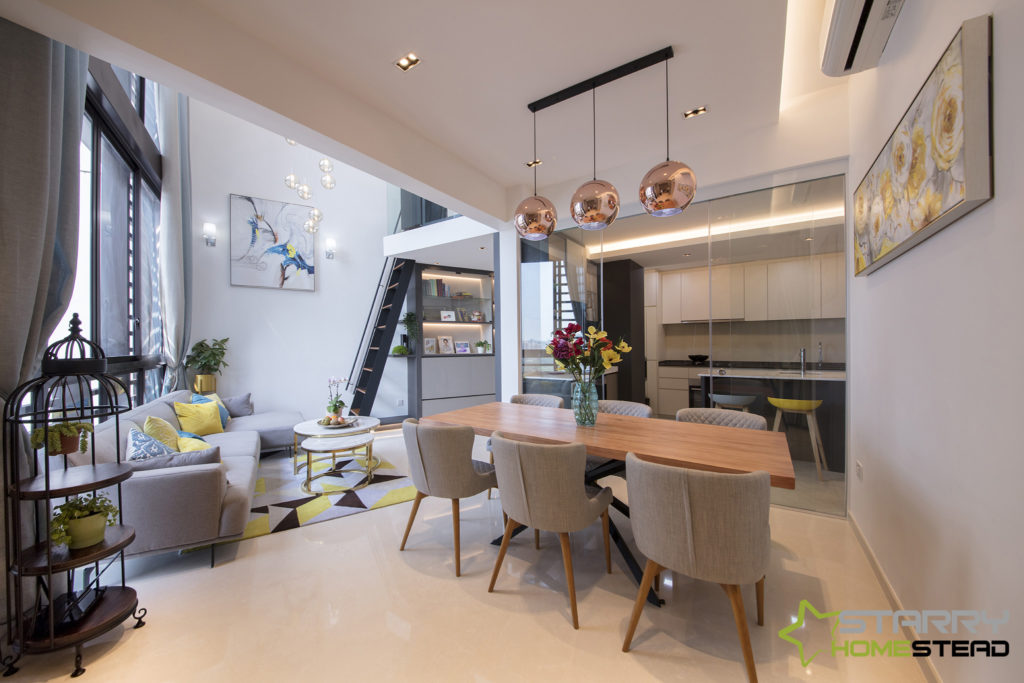 The use of pop colours can make a room look neat, chic and sleek.
Glossy Surface
Nothing says modern like gloss does! If you are going for that swanky and ultra-modern look, shiny surfaces such as marble, granite and other glossy materials are sure to make your home pop! Not only do glossy surfaces reflect light, thus making the space appear bigger, they are also great at hiding blemishes like scratches, marks and fingerprints too!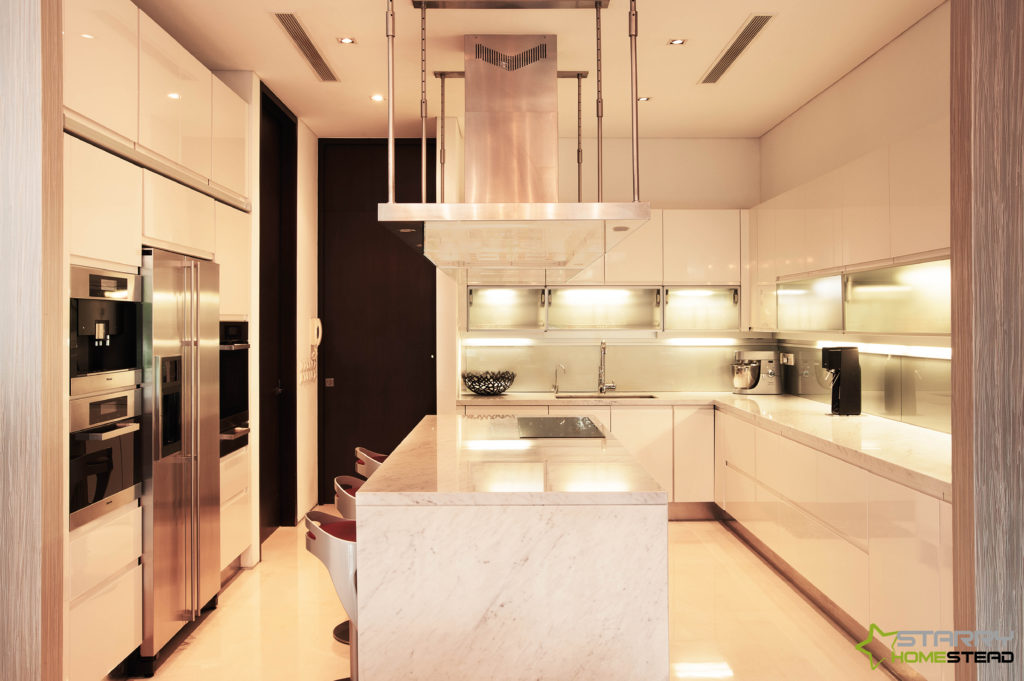 Glossy surfaces add dazzle to an otherwise ordinary room.
Going Bold and Strong
Modern style favours bold and strong designs that stand out in a crowd and make a statement. This can be manifested on feature walls with striking shapes and patterns, eye-catching ornaments or art deco, and vivid colours on fixtures and furniture. The key is not to be afraid to experiment with materials, patterns and colours to bring out your taste and personality.
Making a statement through bold design is a great way to express yourself!
The modern interior design can add so much more to your apartment, making it more than just a living space. It can reflect your taste and your life philosophy. For more information about the modern interior design, contact us for a free consultation today!