A Guide to Scandinavian Home Interior Design
Thanks to Ikea and Scanteak, most of us probably know a thing or two about the Scandinavian home interior design in Singapore. However, the style has more to offer than just floating plank shelves and paper lantern lights. Popularised at the beginning of the 21st century, it often features nature and functionality as its key characteristics. Simple, clean and minimalistic, the Nordic design is known for its white walls, wood floors, and modern furniture with striking shapes.
In this article, we shall take a look at the fundamentals of the Scandinavian design, using some of Starry Homestead's completed condo renovation and HDB renovation projects as inspirations.
Simple & Functional
The beauty of the Nordic approach lies in its "less is more" principle while still manages to bring out an amount of warmth and cosiness to the living space. The interiors are free from over-the-top design, excessive furnishing or embellishments, and usually employ a simplistic, scaled-down style, yet allowing it to be stunning by mixing patterns and textures in a space.
While keeping the design clean-lined and practical with built-in storage, adding furniture of different textures keeps the living room from appearing too sterile.
Bright & Airy
The conventional Scandinavian look celebrates bright, open and airy interior and prefers natural light as its backdrop. Fortunately, we have an abundance of sunshine in Singapore for us to leverage! By letting the light in, a warm and welcoming feel is instantly created in an otherwise restrained living space.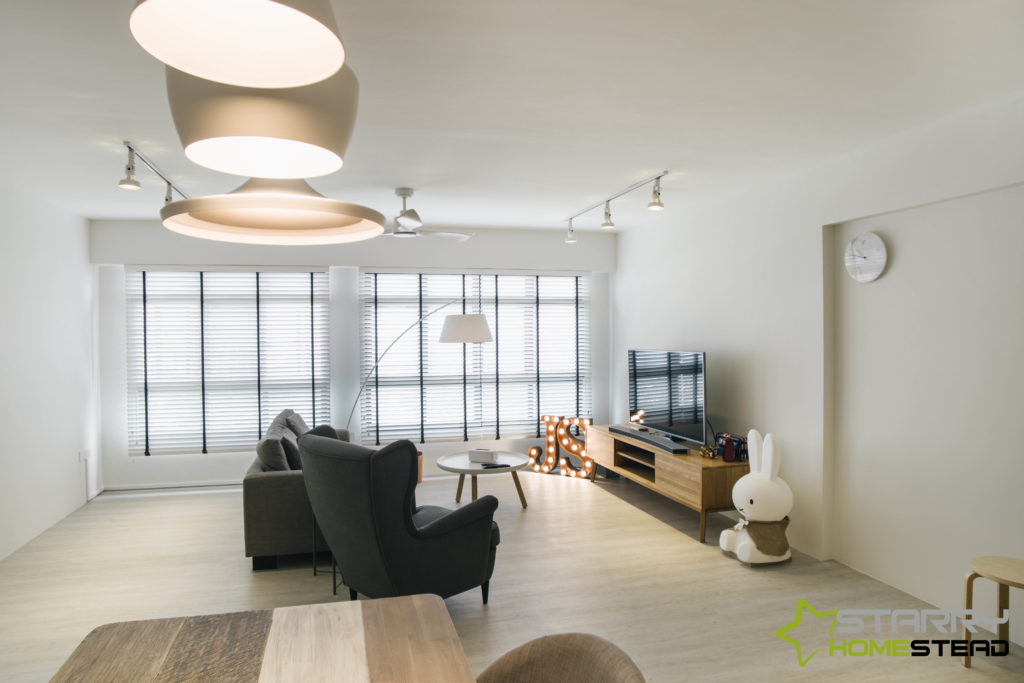 These floor-to-ceiling windows are architecturally perfect for the Nordic look, making the clutter-free interior look even more spacious.
Wood Flooring
As the design has emerged from a region where wood is vastly available, hard wood floor has become one of the quintessential elements of the Scandinavian look. Here, light-toned wood is our favourite pick, although other types of flooring options such as laminates or light-coloured tiles can also draw attention to the clean and sleek style.
Pale wood floor or laminate flooring of lighter shades gives a neutral and classical aura.
Hint of Texture
In addition to wood floors, the Scandinavian aesthetic also uses natural materials such as wood finishes and stone feature walls generously to give the space more texture. One of the more popular choices in many homes these days is stones, such as craft stones, stone veneers or exposed bricks. Not only do these light-coloured materials offer timeless, nature-like beauty to the interior, they also have calming and relaxing effects on the state of minds of the residents. Rich, cognac-toned leather pieces or textile furniture can also be added to accentuate the warmth and cosiness in the home.
This feature wall with exposed bricks offers the room a rustic and charming look.
Muted Colours
Low contrast, earthy colour schemes such as white, beige and grey are the Scandinavian design choice colours, which are used to emphasise the natural light. However, occasional pops of strong hues, design elements or furnishing are added to contrast the neutral palettes. If you wish to remain faithful to the Scandinavian style, but need something to liven up an area, home plants are effective and natural decorative elements that would do just the trick.
Decorative panels on the wall are used to spice up the light and earthly hues in this bedroom.
A dash of dark brown in an otherwise neutral-coloured design gives the bathroom a Nordic yet contemporary look.
If you think the Scandinavian interior design is the right choice for you, contact our friendly sales consultant to find out more.