The modern luxury interior design style is a highly raved interior style in Singapore because of how it makes one feel like royalty. However, when we talk about this design style, homeowners often fear that renovation works will cost them a fortune due to the word "luxury".
We share with you the elements included in the modern luxury interior design style, as well as how you can achieve it without breaking the bank; just because it sounds expensive does not mean that it has to be pricey. 
What Is The Modern Luxury Interior Design Style?
Associated with a high standard of living that is sophisticated yet simple, the Modern Luxury design style takes inspiration from Modernism, which reflects a fuss-free approach to life. Its foundation, the modern design style, is a sleek and uncluttered style that began in the late 19th century. 
This design style is put together through a variety of styles, colour palettes, furniture arrangements, and decorative details. While a Modern Luxurious interior may include a variety of rich textures and materials, sometimes a single, well-chosen piece of furniture or decoration is enough to give a space a luxurious appearance. For instance, a modern piece of art or an accent chair.
The Elements of Modern Luxury Interior Design
1. Colour
Modern Luxury interiors make use of a colour palette filled with modern colours such as grey, black, white, brown, beige as well as metallic colours like steel, rose gold, and platinum, and luxurious colours such as red, purple, teal, as well as jewel tones such as emerald and topaz colours. 
Conceptualising the best colour scheme for your modern luxury home interior design is simple; start by choosing three of your favourite modern colours, followed by two luxurious, the number of colours used can be tweaked around. 
The modern colours will be your home's base colour palette, while the luxurious colours will be used as an accent colour. 
2. Material
In modern luxury interiors, sturdy fabrics such as cotton, linen and silk, as well as leather, or other luxurious fabrics such as velvet and satin are commonly used. A good way to creating luxurious looking homes without breaking the bank is to make use of classic prints such as houndstooth, arabesque, and subtle geometric patterns on accent pieces such as your curtains, pillows, rugs, or even armchairs and sofas.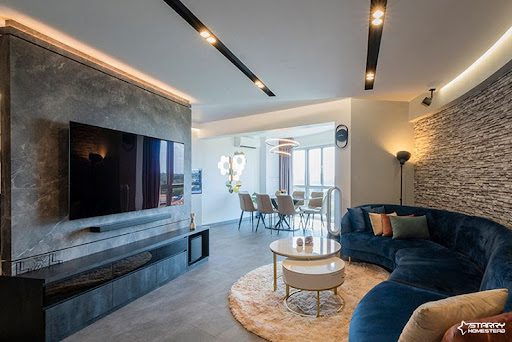 On top of fabrics, the modern luxury interior utilises natural elements such as stone, wood, and even concrete to give off a bolder, more elegant and unique look. Natural stones such as granite and marble are capable of elevating the appearance of a space, and wooden pieces are ideal timeless pieces of furniture to incorporate into your home. 
While natural stone and hardwood can be pricey, you can still achieve a luxurious look with affordable manmade options such as cultured marble and kompacplus. Although manmade options have very uniform grains, they can still exude a vibe similar to natural stones and wood.
Take note not to use overpowering patterns and designs as the modern luxury style puts emphasis on an uncluttered environment.
3. Furniture
The modern luxury home interior design features mostly straight and clean lines, with barely any use of curves or intricate details. Think simple geometric shapes and sleek designs. 
When choosing your furniture, focus on finding simple and functional pieces that can fit perfectly into your home interior design. You don't have to purchase a 5-figure designer furniture piece, one with a straight and clean aesthetic will do the job as long as the piece of furniture fits your interior. Of course, it would be a plus if you can find a reasonably priced one of luxurious material. 
Some elements to look out for include marble and glass tops, straight lines, glossy finishes, and metallic trimmings.
4. Light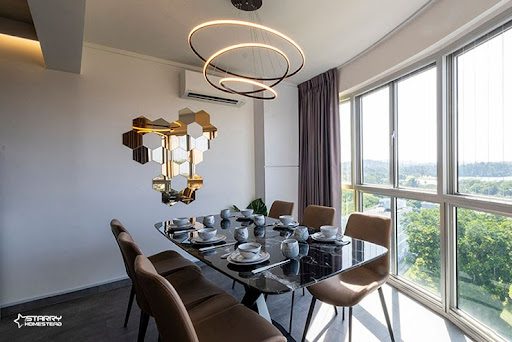 In modern luxurious homes, the right lighting must be chosen for the perfect home interior design. Opt for modern and simple chandeliers or drop pendants, then complete the look with cove and pin lights for a subtle yet dramatic feel, and to create an ambience by lighting up specific areas of your room.
Steer away from the conventional lights you see in typical Singaporean homes and get unique and interesting light fixtures for an elegant look. Note that warm lights are often used in the modern luxury interior design style to create a homely and sophisticated vibe. 
5. Decorative Items
Lastly, complete your modern luxurious home by accessorising with minimalistic flower vases, aesthetic display books, or even modern artworks. 
Present your paintings or prints with frames of soft neutral or gold colours, or make use of decorative items such as polished pebbles, miniature figurines and potted plants with small subtle leaves.
Creating your own modern luxurious home can be fun and does not require burning a hole in your pocket. Remember, the best interior design is the one that you love most. Transform your home into a modern and luxurious one today with the expertise of our interior designers!