Where can you find tiles in your home? The floor and bathroom, obviously! Perhaps the kitchen too? If you think tiles are reserved only for these areas, well, it's time to rethink tiles and put them to even better use!
Tiles are one of the most versatile and hardworking materials in the home interior space. Whether it is used to resolve a design challenge or mask architectural flaws, the humble tiles can be used to transform any lackluster space into an inspiring area. In this article, we will show you creative ways of making use of your tiles so that you can fall in love with them all over again.
Feature, Feature on the Wall
Paintings and pictures are great for adorning your walls, but they need not be the only options. If your whitewashed walls look painfully average, you can enhance their appearance with a wall feature built with tiles. You may be surprised how a tile wall can add a dynamic vibe to your kitchen.
Consider leftover as for your living or dining room
Mosaicing Frames or Planters
Have you recently tiled an area in your home? If so, you would likely have leftover tiles that you don't know what to do with. Most people would leave them in the storeroom and forget all about them. The good news is, there are ways to put these leftovers to good use.
With a little creativity, you can employ them to mosaic a picture, painting or mirror frame. It's a great way to add character to an otherwise simple structure. If framing is not your thing, how about embellishing the pots to make your plants look livelier?
To create a frame or a planter, smash your leftover tiles into mosaic size with a hammer, stick them to the desired areas with a strong tile adhesive and finish with white grout. Remember, a little creativity and patience go a long way!
 (Image from http://tiny.cc/1jkp7y )
Rocking the Artistic Look
Unleash your artistic talent in you and create some art pieces to decorate your walls or use them as pieces of jewelry! If you have large, boldly designed or colorful pieces like Peranakan tiles, they would be perfect as art deco for the wall or hanger for your keys or clothing. Feeling that artistic power growing stronger within you? Why not create some pieces of funky jewelry? Precious marble tiles can be hand-cut to create necklaces, rings or even earrings. While you're at it, why not make more for your friends or family or use them as materials for craft sessions with your children?
Need new jewelry? Why not make your own with leftover tiles? 
Plain No More
Many homes have floors that simply look too homogeneous. Well, they don't have to be uninteresting, at least not anymore! One way to spruce up narrow pathways or small spaces such as corridors, staircases and study rooms is to pave them with colorful or patterned tiles. Consider also foyers and entryways as an outlet for creativity too. A beautiful selection of mosaics or bold-designed tiles can make the expected, unexpected.
(Image from Pinterest)
The Completely Uncompleted Look
We are starting to notice an increase in popularity in this interior design trend ­– leaving the tiles on the kitchen walls unfinished. This works particularly well with large, hexagonal design. Rather than squaring off the hexagon shapes of the tiles and covering the entire wall, the staggered edges are left as they are. The result is a unique design that is beautifully transitioned from tiled to cement walls.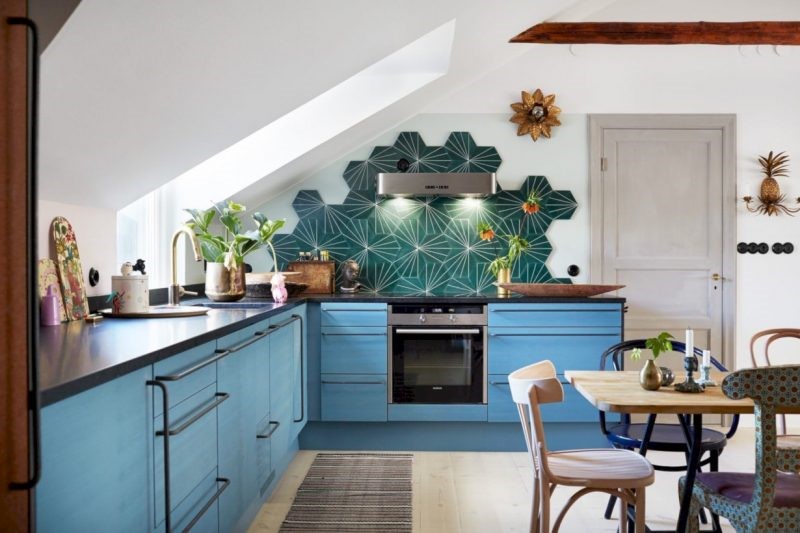 Unfinished hexagonal-tile accent walls are trending.