The colour palette is one of the most important design decisions you'll have to make for your home interior design. From your wall to every small ornament, the colour you choose can have an impact on how your overall home looks and feels. Colour also influences human emotions and behaviours; some can make you feel calm, while others may invoke anxiety. This is also known as colour psychology. In today's article, we'll show you some amazing colour palettes that you can use in your home, depending on its interior design.
Sky Blue + Beige
Blue is a colour that evokes feelings of calmness or serenity, empowering a sense of peace, security, and stability. It is reminiscent of the sky, and frequently used in outdoor or brightly lit spaces near beaches because it synergises with the sea. Depending on how you use this colour combination of sky blue and beige, you can create either a coastal or contemporary interior design style.
By incorporating more blue tones throughout your home, with nautical or beach-related elements and ornaments, you can create a coastal home interior that is akin to a relaxing getaway along the coast. On the other hand, if you use more beige tones and restrict the use of sky blue to a few select areas of your home, you'll have a contemporary home interior design that is both stylish and cosy.
Emerald Green + Maroon + Light Pink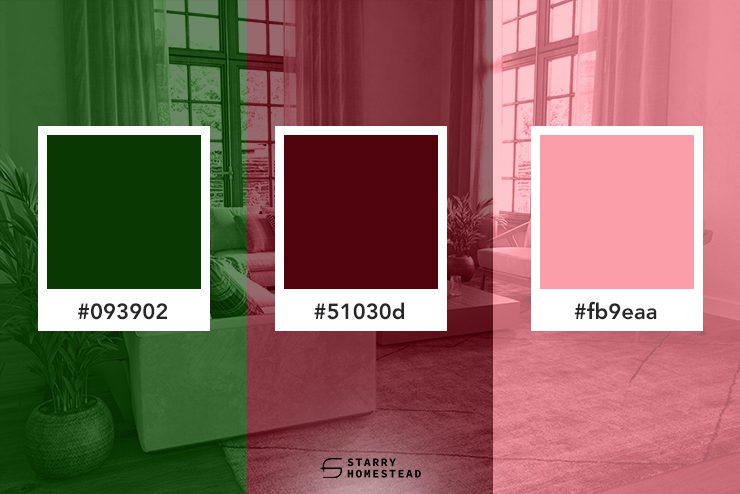 This colour palette is designed for individuals who are bold and passionate. Green is a powerful colour that represents growth, whereas red (or maroon) represents strength and courage and is associated with strong emotions such as love and passion.
The maroon and emerald green add a splash of colour to the space, making it ideal for an art deco or eclectic interior design, while the light pink softens the space, bringing balance and cosiness.
Grey + Blue-Green + Tan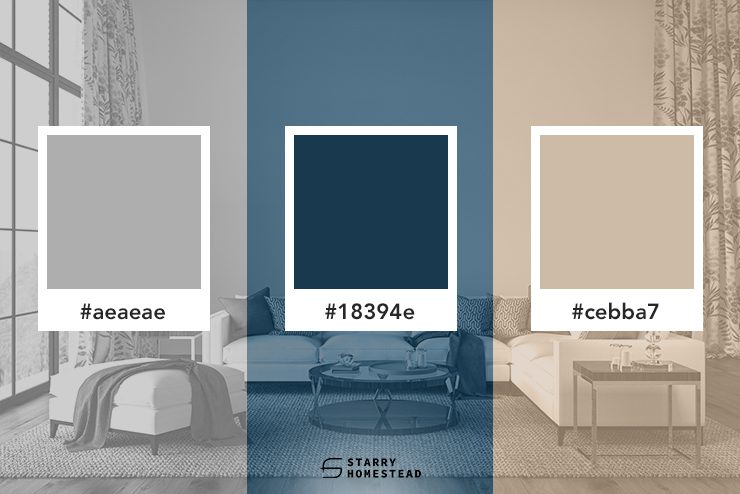 If you prefer a cosier and earthier home interior with a pop of colour, you can always go with more neutral colours like grey and tan, then add a splash of your favourite colour, like blue or pink. To create a modern coastal vibe, we chose a palette with a bluish green colour. It evokes a sense of peace and comfort, has a clean appearance that is ideal for a variety of interior styles such as Scandinavian, contemporary, or modern luxury interior design, and creates the ideal environment for relaxation.
Pink-White + Orange-Brown + Orange-Pink
White is always a good match for bright colours. In this case, we combined a white with pink undertones with vibrant shades of orange-pink and orange-brown to keep the space from looking too stark — warm and bright colours can boost your mood and increase your attention span. This colour scheme is ideal for an eclectic interior design, or you could combine it with some modern elements that are currently in trend for a contemporary interior design style.
Yellow-White + Beige + Brown
Finally, if you like the clean and serene vibes of interior design styles reflected in Scandinavian, wabi sabi, japandi, or muji, the colour palette you can consider includes warm white, beige, brown, or any other wooden tones. Beige and brown colours are similar to natural wood tones, accentuating nature, warmth and homeliness. This can help enhance positive, soothing emotions. These are also neutral colours that complement many other colours, making them easier to pair.
When it comes to design, colours are extremely important, and every shade you choose can have a significant impact on the appearance of your home. If you are unsure about what colour you want, an interior designer can help you.
Starry Homestead specialises in both residential and commercial interior design in Singapore, with many years of experience creating beautiful and functional spaces for all. Begin your home renovation journey with us.