Creating a well-designed office space is crucial for maintaining a professional image and promoting employee productivity. With current trends, however, gone are the sterile, uninspiring office spaces of the early 2000s. Today, the modern employee places equal importance on mental health and morale, and the ideal office space should reflect an element of fun and relaxation as well. How then, can you find the right balance between work and play in an office interior design in Singapore? In this article, we will explore design tips to create an office environment that champions both characteristics without skewing towards either extremes.
Encourage Employees to Decorate Their Space with Personal Items
Allowing employees to personalise their workspaces can create a sense of ownership and make the office feel more like home than just a dull place they have no connection to. Start by encouraging them to display personal items such as photos, plants, or artwork that reflect their personality and interests. This not only adds a touch of individuality but also helps create a positive and engaging work environment. It's one of the most effective ways to spruce up your commercial interior design in Singapore.
Use Vibrant Colours in the Right Places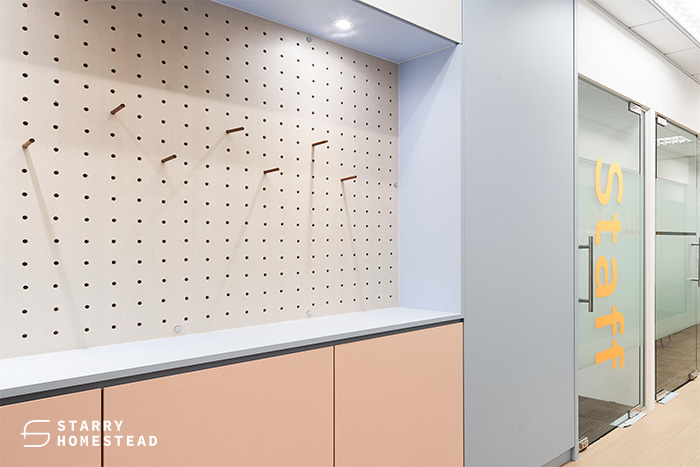 It is well known that colours have a significant impact on mood and productivity. It is entirely possible to pick out colours that help maintain the balance between work and play. To do so, consider incorporating vibrant colours in the right places to add energy and excitement to the office. For example, you may use bold accents like colourful furniture, accent walls, or vibrant artwork to inject personality and create focal points. Balance these vibrant colours with neutral tones for a cohesive and professional look that ties everything together. Do also consult with your interior designer about how to incorporate these elements into your office renovation in Singapore.
Learn more: Interior Design and its Effects on Productivity
Create a Relaxing Rest Area
All work and no play can quickly lead to burnout and decreased productivity. To avoid this, create an office space with a commercial interior design in Singapore that allows employees to recharge whenever they need to. This can come in the form of designating a specific area in the office for relaxation and downtime, such as a comfortable rest area with cosy seating, soft lighting, and amenities like a coffee machine or games. This space allows employees to take short breaks, interact with colleagues, and return to work feeling refreshed and rejuvenated.
Incorporate Nature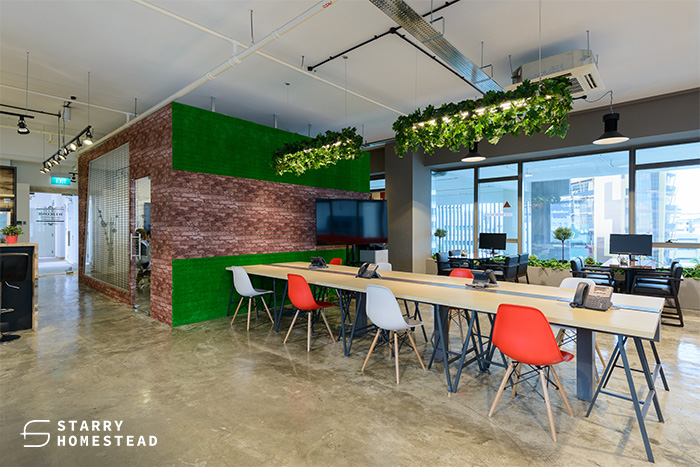 Bringing some nature into the office environment has been shown to enhance well-being and productivity. Incorporate greenery and natural elements into your office interior design in Singapore by introducing elements like plants, natural light, and views of the outdoors to create a calming and refreshing atmosphere. On top of their aesthetic appeal, plants also improve the overall air quality in your office space whilst promoting a sense of tranquillity. To effectively connect your office with nature, consider placing potted plants on desks or incorporating green walls to create a connection with nature.
Add Murals to Your Walls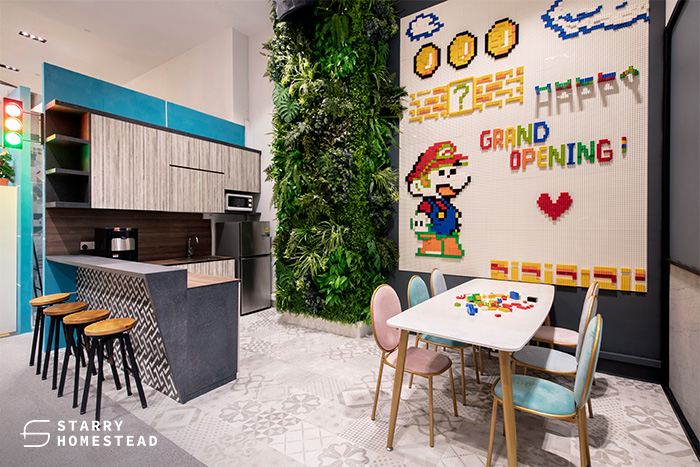 As mentioned earlier, plain and uninspiring walls can make an office feel sterile and impersonal. Adding attractive murals or artistic wall graphics are a great way to inject creativity and personality into your commercial interior design in Singapore. These can also be customised to reflect your company's brand identity or create a visually stimulating focal point to foster a sense of identity and belonging amongst employees. Murals can be placed in common areas or meeting rooms to spark creativity and inspire employees.
It's all well and good to have fantastic ideas for your office renovation in Singapore, but you'll also need a professional and reliable interior designer company to help translate your vision into reality. Here at Starry Homestead, our team of experienced and knowledgeable designers will guide and advise you through the entire process, ensuring that you stay on top of what's going on whilst providing excellent end results. For more information about our services, please visit our website.