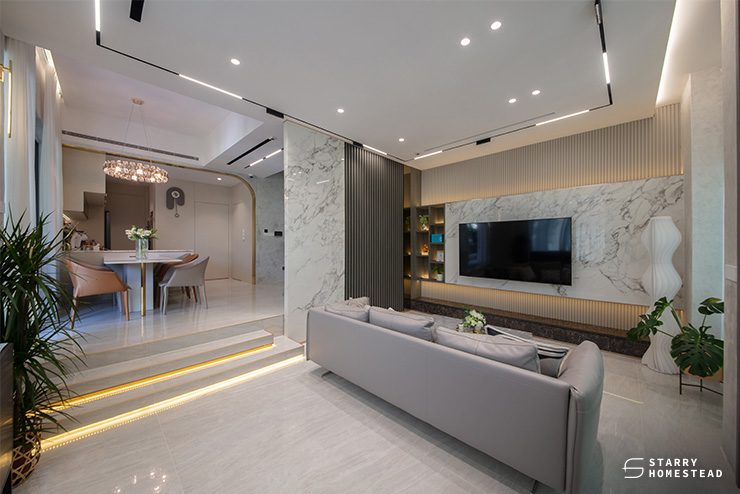 Feature walls are constructed to break up monotonous wall designs or home interiors to bring focus to the centre of the room. They can also be used to highlight a decorative element aesthetically or draw attention away from undesirable parts of a room. In Singapore, feature walls are typically created in the living room where the television is placed to beautify the area of the house where your eyes will be fixated most of the time.
TV feature walls for smaller homes such as HDB flats and condominiums are easy to design, but achieving the same stunning effect for large Singapore landed house designs can be difficult due to the huge interior spaces that need to be filled. However, creating a beautiful TV feature wall can be easy if you simply pay attention to these details.
Add Textures

Textures add a lot of visual interest and depth to your landed house interior design. Using cement or raw woods instead of clean and smooth surfaces adds an edgy, chic vibe to an otherwise plain and boring wall. Textures also contribute to the warmth of your home design, cosying it up and keeping it from looking cold and stark.

Embrace Patterns

Patterns, in addition to textures, are an excellent way to add depth and visual interest to your interior design. Do not be afraid to experiment with different patterns such as stripes, grids, fluted panels, or curves, as they can also be used to direct your eyes to a focal point when used correctly. Patterns can also be made by choosing materials with natural grains or lines. Marble and granite feature walls, for example, add a touch of elegance and luxury with their stone designs, whereas wood grains create an organic and soothing home interior for rest and relaxation.

Mix Different Materials

Using only one material for your TV feature wall can become boring. To create a stunning feature wall, play with various materials to create patterns and designs for visual interest. For example, concrete surfaces with gold metal strips or wooden panels with marble.

Create Visual Dimension

Large homes, such as landed houses in Singapore, have ample space for interior design. Rather than limiting your TV feature wall to one area of your living room, consider extending it upwards towards the ceiling to create a more dynamic and complete look. It can even be extended to the sides or blended in with the floor. Extending the TV feature wall in different directions can sometimes make your living room appear cosier, wider, or more spacious.

Install Accent Lights

Add accent lights to the back of your TV feature wall or on the feature wall itself to glam it up. Soft lighting from the back creates depth, while mini lights on the wall can be used to mimic stars or draw attention to your decor.
Beautiful TV feature walls are suitable for all types of residential properties. On their own, they can easily beautify your home interior design and make it look less boring. Create your own TV feature wall with Starry Homestead today; our team of designers and our range of comprehensive interior design services are tailored to meet your specific design requirements. Contact us today for a consultation.