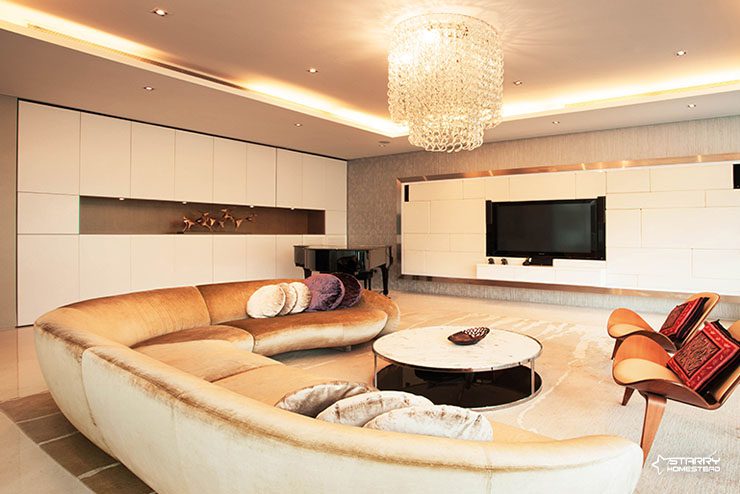 While the majority of Singaporeans live in HDB flats and condominiums, many of us also live in landed houses. These landed houses in Singapore can range in size from 200sqm to more than 1400sqm and may feel empty and cold at times, especially if the interior design isn't done well. 
If you've recently purchased a landed property or want to renovate your home to make it warmer and cosier, here are some interior design ideas on what you can do. Alternatively, share this with your interior designer and get them to include these elements in your home interior design.
1. Warm Colour Palettes
Cool colours such as green, blue and purple spark feelings of calmness and sadness, the toned-down versions such as grey colours also evoke a sense of sadness and dullness at times. Warm colours, on the other hand, often trigger a variety of emotions ranging from comfort and warmth to anger. When used correctly, these colours make large spaces feel secure and inviting.
An appropriate combination of both warm and cool colours can also make the landed house design feel welcoming and intimate. Warm colours can be used as a base colour on the majority of walls, while cool colours can be incorporated through decorative ornaments, on features walls, or accent furniture. 
Consider colours such as cream, brown, pale yellow and pink. Cream colours create a soft and calm atmosphere, brown creates a sense of stability and is warm and friendly, pale yellow evokes happiness and is often associated with laughter, whilst pink calms you down and is associated with feelings of love and kindness.
2. Connect Spaces
Due to the sheer amount of space, landed house interior design is extremely important in tying spaces together to allow the elements in the home to flow harmoniously and seamlessly. 
Consider connecting spaces with consistent flooring patterns, it could be parquet flooring or Peranakan tiles. Using the same flooring design throughout the home will provide a clean, joint and continuous appearance whereas using different flooring designs in your home can make the spaces look detached from one another. 
If you're an avid collector of designer furniture or artwork, you can choose to add accent pieces such as vintage tea table furniture sets or a stunning chaise lounge in empty walkways. Art pieces or murals can also be displayed on empty walls to make your home look full and homely without it looking messy and cramped. 
3. Greenery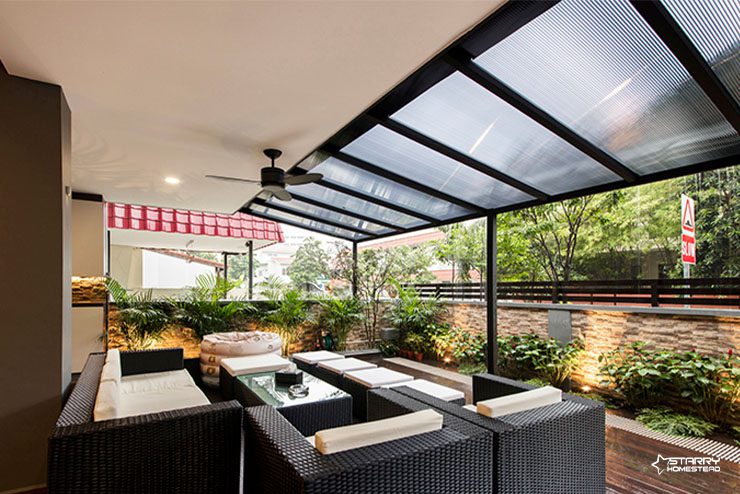 Greenery in the form of fake potted plants or real bonsai trees is an amazing way to turn a large landed house into a snug and cushy home. 
It is said that plants can improve your state of mind, concentration, productivity, and even make you feel more comfortable and at ease. The addition of plants can bring feelings of vitality into your home, lift spirits and bring positive feelings to boost your family into feeling more lively and active. 
They are also an excellent way to fill up empty spaces, adding visual interest, colour and a burst of life. 
4. Comfortable And Cosy Materials
There are many interior design styles in the world and the cosiest looking ones are often those that feature natural or raw elements. A little addition of textures and matte surfaces to a large home can instantly change up the atmosphere. 
When furnishing your home, consider getting more wood, fabric and rattan items, and less metal, glass, and glossy materials. Laying a fluffy rug here and there, incorporating rattan in your light fixtures, adding a soft throw on your fabric sofa are just a few ways of creating a sense of homeliness. 
5. Large Furniture
With the luxury of space, there are endless possibilities when it comes to landed house designs. Make full use of the space and consider getting large pieces of furniture to fill up your home. 
Small furniture takes up a lot less floor space and will ultimately make your home look cold and bare. If you were to furnish your living room with large modular sofas, accent chairs, a unique coffee table and a large TV feature wall, your home will immediately look more put together and homely, as though it's waiting for the family to come home for movie night. 
Making a home look cosy and inviting isn't tough and the same applies to landed house interiors. Rather than spending days fretting over how to transform big spaces, why not consult a professional interior designer for their input and expertise in the area and let them design the home of your dreams? 
Starry Homestead specialises in residential and commercial interior design, and the team is dedicated to providing homeowners with beautiful and stylish interiors that meet their needs and tastes. Contact us today to see your dream home come to life.