The festive season is here! It's the time of the year to throw that quintessential Christmas or New Year party and invite your beloved friends and relatives to your home. Before you open your door and welcome them into your abode, you want to make sure it is sparkling clean and tidy, even if you have a gorgeous home interior design.
That means – gulp – cleaning up the home! While it may not be a task most of us look forward to, cleaning and tidying up your living space will not only make you look less of a slob, it is also good for your family's health. Are you ready to give your home a top-to-bottom buffing? Here are some tips to help you get started!
Declutter Your Space
First thing first, make sure you declutter your living space. This means getting rid of old, broken or unused stuff that has piled up over the past year. It frees up more space and makes cleaning later more manageable. If you are unsure whether to throw away an item, ask yourself if you've used it in the last 12 months. It stays if you had. Otherwise, show no mercy!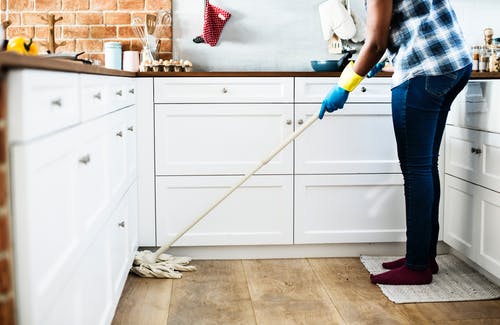 Give Your Floor a New Life
I'm sure your floor is mopped regularly, but why not give it a fresh look by applying wax or a good polishing? Your floor is subject to wear and tear over the years, so if you have parquet, wood or marble floor, adding a new wax coating or getting it polished will make it look almost brand new.
Sponge Walls, Cabinets and Wardrobes
Most people neglect the surfaces of wall, cabinet and wardrobe, thinking dust would just fall right to the floor. The fact is, some dirt, fingerprints and spills do accumulate on them. To clean, use a sponge and hand or dishwashing detergent and give the surfaces a good mop.
Carpets, Sofas and Upholstery
Fabrics generally attract dirt, body oil and germs, and thus, deep cleaning once in a while is strongly advised, especially if you have toddlers or children at home. Pay special attention to furniture such as carpets, sofas and upholstery. Start by vacuuming the furniture thoroughly, and then use carpet and upholstery shampoos to get rid of stains and odours in your rugs and sofas. If you don't like to use commercial products, a few spoonfuls of vinegar in warm water can also do the trick. To remove hair and pet fur from the fabric, run a damp rubber glove over the surface several times.
Ceiling Fans and Light Fixtures
Many people don't clean fixtures such as ceiling fans and lights often, so make sure you get to them during spring cleaning. What you need is a stepladder (borrow from your neighbour if you don't have one; it's a great way to make new friends!), an all-purpose cleaner and a sponge or cloth to give the fixtures a good scrub.
Lastly, don't forget to give your doormat a good shake or a swat with a broom. The doormat, after all, is the first thing your guests see, so make it count!