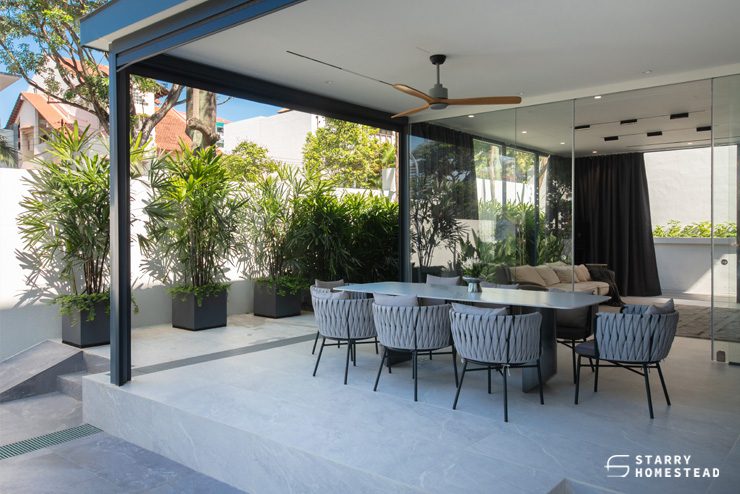 Do you live in a landed property in Singapore? While the interior design of your home is important, the exterior appearance of it affects your quality of life, as well as influences how your neighbours perceive you.
The parts of your property that affect the appearance of your home exterior include your front porch, garden, backyard, and the sides of your house, and the planning of these areas is known as landscape design. Learn more about how landscaping affects landed house designs and what you can do to beautify your house. 
What is Landscape Design and Why is it Important?
Landscape design, or landscaping, is the environmental design and planning of areas such as parks, gardens, and outdoor spaces in and around large estates. In Singapore landed house designs, it is the way external spaces are planned to improve the living experience and the visual appeal of your property. A well designed outdoor space provides a safe route back to your home, a place for recreation, and raises your standard of living. Landscape design is classified into two types: soft landscape and hard landscape.
Soft landscaping is the design and installation of natural elements such as plants, flowers, trees, and other organic materials. Hard landscaping includes stonework such as outdoor kitchens and barbecue pits, water features such as fountains and ponds, and the surrounding fence.
Landscape design and its features have become an important part of our living experience, as they can influence the aesthetic appearance of your house and the way the space functions for social activities.
Landscaping Tips for your Landed Property
1.The Purpose of your Outdoor Space
Different landed properties in Singapore have varying amounts of space around the houses and this will affect what the area can be used for. Some homeowners may choose to keep these spaces bare for their cars, while others may prefer to elevate the area with beautiful features and plants. The things you'll add to this area of your home will depend on what you want to do with the space. Families with an interest in gardening can set up a mini farm with plots of land for growing fruits and vegetables, while dog owners can transform it into a little dog park. 
2.Make Use of Plants
Plants are great additions to landed house designs because they can naturally beautify any space they're in. If you're not sure what to do with your front porch or backyard, simply plant a few trees or flowers to do your part for the environment while creating an aesthetically pleasing garden. 
3.Ensure Ample Walking Space
The front of your property leads to your house while the back can be a space for parties and sports. Always ensure that there is ample space for people to move around if you wish to utilize these areas for activities. 
There are multiple possibilities to landscape design and how well the space turns out will affect your quality of life. Therefore, it is important to get the right people with the necessary skills and licence to work on this part of your property. 
If you're keen on transforming your empty space into a beautiful area for leisure, Starry Homestead can help you achieve the look that you want. Our home designers are experts in residential interior design, which includes landed property renovations and landscaping. Get in touch with us to find out more about our services.