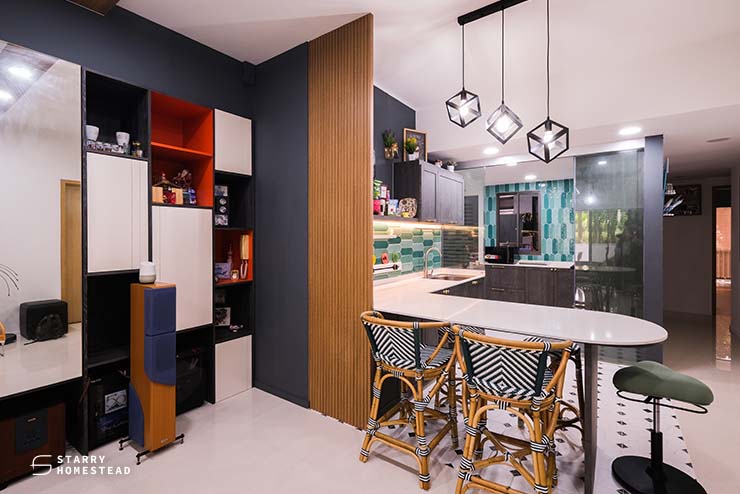 Whether you're someone who enjoys cooking up a feast in your kitchen or someone who simply uses the microwave and water kettle occasionally, the kitchen is the one room in your house that must be carefully designed to withstand heat, moisture, and other damages. 
However, designing a long-lasting yet beautiful kitchen is not easy and cannot be accomplished simply by combining a few colours and materials. To build a kitchen with a long lifespan, you need to consider some of the strongest materials, create a conducive kitchen interior design, and plan the most effective layout to avoid damage and accidents. Today, we'll go over the pros and cons of the most common types of kitchen countertops to help you get started on your kitchen design. 
Also Read: Kitchen Layout Ideas To Consider
1. Quartz
This material has been a favourite amongst homeowners for the longest time. It is made of engineered stone, which is made by combining quartz with polymers, resins, and pigments. Due to its alluring appearance and variety of styles, it beautifies interiors and is suitable for various kitchen interior designs. 
Quartz is a relatively durable countertop material, with a mineral hardness rating of 7 out of the total score of 10 on the Mohs scale. Although it is rather resistant to scratches, chips, stains, and water damage, it is not completely indestructible. With proper usage and maintenance, its appearance will remain largely unchanged throughout the years. However, quartz has a low resistance to heat, which means you'll have to be extra careful when dealing with heated items, and you won't be able to set hot pots and pans directly on it.
2. Solid Surface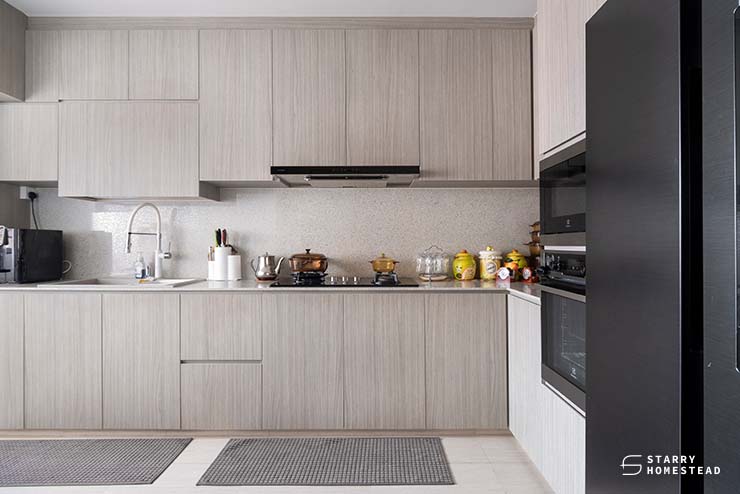 The solid surface countertop is the perfect mid-range material. It is made up of mineral dust, mostly marble, mixed with a variety of plastic resins and pigments. Its appearance is similar to that of a natural stone countertop, but it is a manmade, non-porous material that is resistant to moisture and stains, and it can even keep bacteria away. Because solid surface isn't a multi-layered product like laminate and the material goes all the way through, it can be easily repaired if it does chip or scratch. 
The issue with solid surfaces is that they are quite soft and can be easily scratched by knives and sharp objects. It also has a low resistance to heat. 
3. Sintered Stone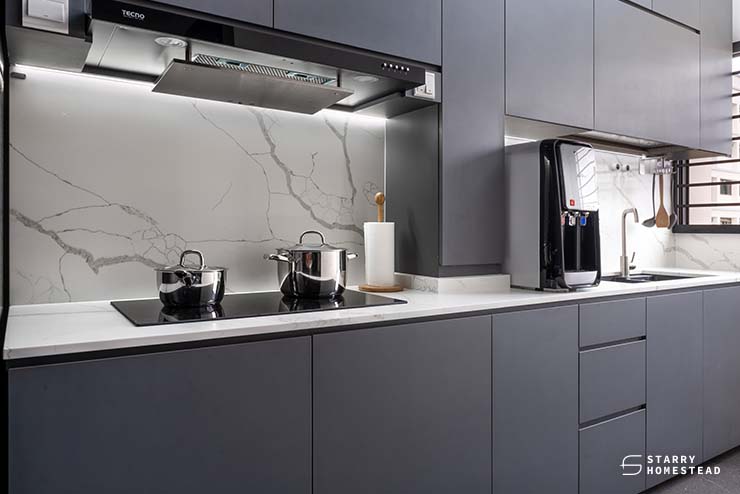 This material is one of the strongest kitchen countertop materials available. It even comes in a variety of colours and patterns suitable for various kitchen interior designs.
Sintered stone is made by heating a mixture of materials to form a solid mass that is highly resistant to chips, scratches, moisture, and heat. As a result, it is a sturdy and non-porous manmade material that is also food safe. This means that no bacteria can be trapped within the material and that food can be handled safely on the surface. 
4. Terrazzo
This beautiful composite countertop material is created by combining cement with small pieces of granite, marble, glass, and other synthetic materials. It is currently in trend, and many homeowners are incorporating terrazzo into their kitchen interior design by using it as a backsplash or countertop. 
Terrazzo is durable, highly resistant to heat and extremely long-lasting. It is also a versatile material that can be used in many parts of your home, not just within your kitchen. Also, because they are made from recycled components, such as various stone chips, they are eco-friendly and non-toxic. However, this material is difficult to repair, and its timelessness may be an issue as trends continue to change. 
5. Natural Stones
Marble and granite are examples of natural stones that are popular among homeowners because of their elegant and luxurious appearance. They are definitely tough and long-lasting and are sometimes used to make kitchen countertops.
However, because they are natural stones, they are porous and will need to be coated and resealed frequently to prevent moisture from seeping into the material and damaging it. Bacteria can also easily become trapped within the material due to its porous nature.
Every type of kitchen countertop has its own set of benefits and drawbacks and they also come in various styles for different kitchen interior designs so you won't have to worry about not having one that matches your aesthetics. Pay close attention to its durability and ease of maintenance to avoid causing yourself additional problems. 
Not quite sure which kitchen countertop material and design suit your interior the best? Speak to an interior design firm in Singapore and let the professionals guide you to the right design. 
In need of interior design services? Get more advice from our team today.