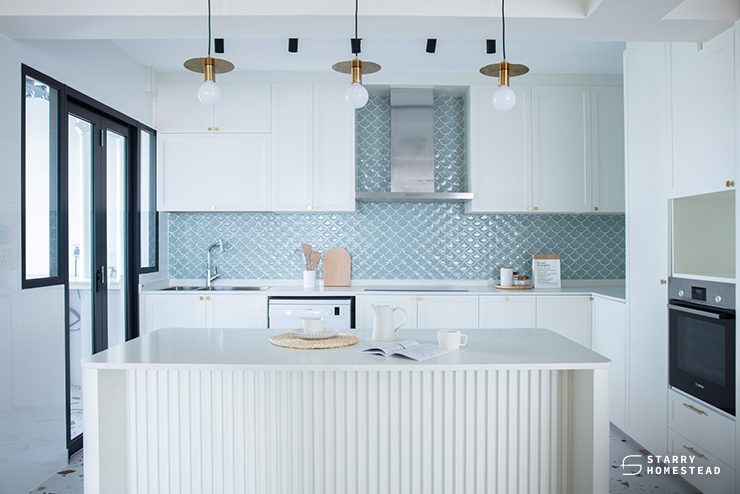 Creating the ideal HDB kitchen interior design can be tricky because you not only need sufficient storage space to organise all of your pantry items, but you also need to consider the workflow you want to establish in your kitchen. This is especially important to those who enjoy whipping up a feast in their kitchen because it ensures proper work structure and safety. 
Before you start your HDB kitchen renovation, there are a few things you should think about if you want to create the perfect kitchen interior design.
1. Materials
The kitchen is a place where a lot of mess is to be expected; ingredients are chopped up, food is heated up, and liquids can be splashed all over the place if you're not careful. The materials you choose affect not only your kitchen interior design, but also its durability and lifespan.
Countertops, kitchen cabinets, and the backsplash must be made of durable materials if they are to last a long time. It also depends on how frequently you will use the kitchen. For example, if you cook regularly, sintered stone is the best option due to its extremely high durability and ease of cleaning. However, if you only use the kitchen on a regular basis, you can choose more affordable and less expensive materials. It is important to do your research and get the materials sorted out before kitchen renovations begin. 
2. Kitchen Layout
HDB kitchen renovations will be a little more complicated because of the limited space. It is critical to plan out your kitchen layout properly in order to make the best use of space. There are many types of kitchen layouts to choose from, each with their own set of advantages and disadvantages.
The galley kitchen is the most common kitchen layout in Singapore, but these kitchens can appear cramped and make it difficult for multiple people to be in the kitchen at the same time. There is also the one-wall kitchen layout, which is ideal for small homes but not for those who require a lot of space for appliances and food preparation. If you have no idea which kitchen layout will work best for you, we recommend speaking to an interior designer who can help you create a kitchen interior design that caters to your needs.
Also Read: Kitchen Interior Design – Kitchen Layout Ideas To Consider
3. Built-In Appliances
Getting your kitchen appliances even before the renovation begins is one of the most important aspects of a kitchen renovation. You must already have a list of actual appliances and models in mind when conceptualising the kitchen interior design, especially if you want them built-in. This is because proper measurements must be taken in order for your appliances to fit into the carpentry. If your carpentry is built and installed but you have not decided on which appliance to purchase, you may have to look for those that can fit into your carpentry, which would limit your options. 
4. Where to Install Lights?
A well-lit kitchen is also a must because it helps to brighten up kitchen interiors for safe food preparation, a comfortable dining experience, and for aesthetics. Natural light is the most effective way to illuminate your kitchen, but there are many other ways to improve overall visibility and even create different atmospheres, especially if your kitchen does not receive much natural light.
Ambient lighting: recessed lights mounted in shallow openings in the ceiling or chandeliers that illuminate the floor and walls for better visibility.

Task lighting: pendant lights or LED strips that illuminate countertops, islands, sinks, and other work areas for greater precision and safety while cooking and cleaning.

Accent lighting: cove lights built into the ceiling that illuminates architectural features in the kitchen for a more visually appealing appearance.
Kitchen interior design can be perfect if you collaborate with your designer to identify all the details even before kitchen renovations begin. Starry Homestead is an interior design company in Singapore that can help you design the ideal kitchen for all your cooking needs. Contact us today to get started on transforming your kitchen.